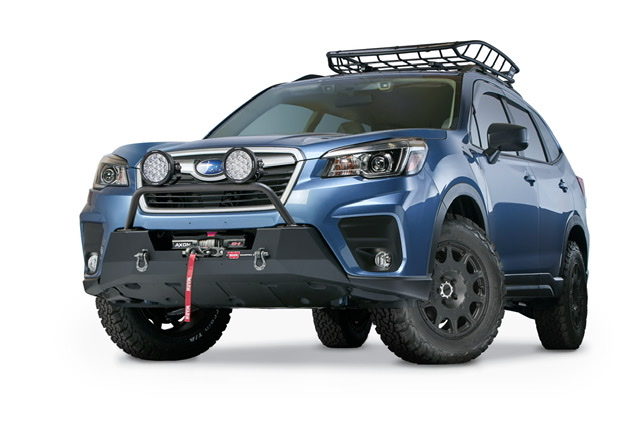 Clackamas, OR (2/14/20) – Hot on the heels of Warn Industries' game-changing Semi-Hidden Kit winch mount for the Subaru Crosstrek, the Oregon-based company has introduced two more Subaru applications.
Now, owners of the fifth-generation Subaru Forester (2019–current) and sixth-generation Subaru Outback (2020–current) can now add a winch, additional front end protection, and recovery points to their vehicles.
These Semi Hidden Kits are designed to work with the vehicle's unibody construction. The highly engineered mounting systems have a stout 3/16" (4.8mm) steel structure and weigh less than 75 lbs. (34 kg). The systems accommodate a WARN VRX 45 or AXON 45 (4,500 lb./2041 kg capacity), or AXON 55 winch (5,500 lb. / 2495 kg capacity), and have been pull tested for winches up to 6,000 lbs. (2722 kg). As an alternative to installing a winch, a 20" (51cm) LED light bar can be installed where the winch would go. Additionally, these kits wear a state-of-the-art powder-coated finish with a five-step pretreatment process using zirconium nanotechnology, and will stand up to a 408-hour salt spray test for exceptional corrosion resistance and UV protection.
For added recovery duty, these Semi Hidden Kits come equipped with two welded steel eyelets allowing for shackles with 5/8" (15.8mm) pin diameters, giving the Forester and Outback strong recovery points. And for buyers looking for even more front-end protection, there's an optional bolt-on grille-guard tube (1.5" / 38mm diameter) which includes tabs to mount auxiliary lights. The kits provide an increased approached angle and a low-profile look to maintain the vehicles' factory lines.

The Semi Hidden Kits for Subaru vehicles are easy to install with minimal cutting to the lower plastic fascia. There is no metal cutting, grinding, or welding needed. They are also compatible with airbags, driver aid systems, and factory skid plates, and have provisions to mount a front license plate. These products are designed, engineered, and manufactured in the USA at the Warn Industries facility in Clackamas, Oregon.
About Warn Industries
Warn Industries is the world's most recognized brand in off-road products such as hub locks and vehicle recovery winches. The company designs, manufactures and markets a full line of off-road equipment and accessories that enhance the performance of four-wheel-drive and powersport vehicles. Warn Industries is headquartered near Portland, OR.