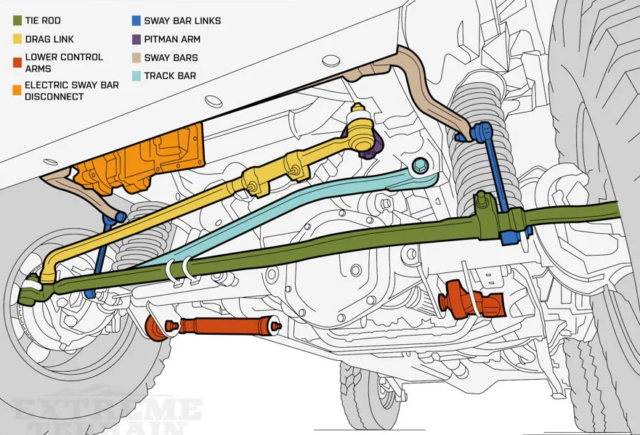 This article has been provided by our friends at ExtremeTerrain and is published as a public service.
All parts are available for purchase on the ExtremeTerrain Website.
Are you in the market for a new lift kit for your Jeep Wrangler? When it comes to lift kits there are a lot of factors to consider; what will it be used for, budget, tire size, etc. All of these factors effect what height and type of lift kit would be the most effective to get for your Wrangler.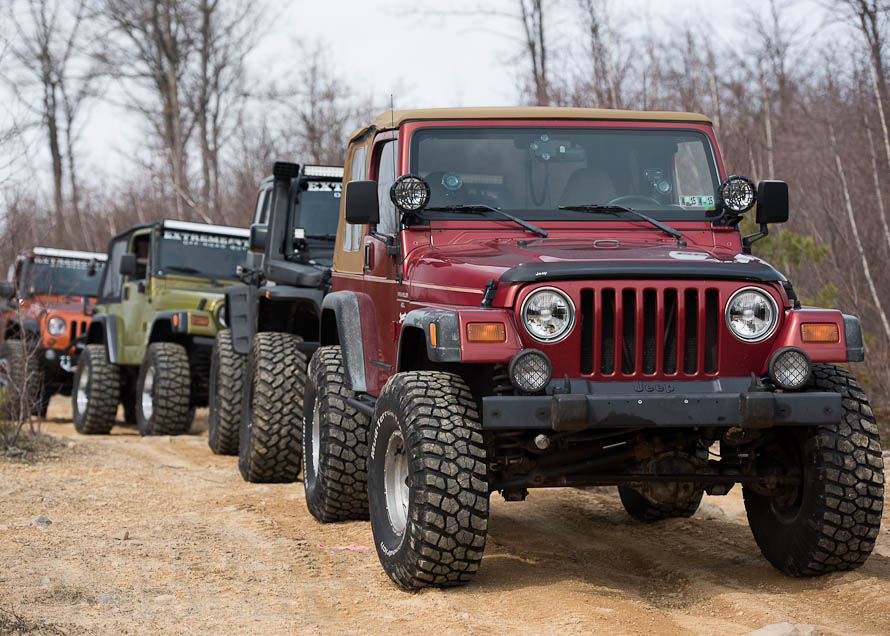 First Things First – What is a Lift Kit?
A lift kit raises the body or suspension a Wrangler. A body lift increases the distance between the frame and the body while a suspension lift increases the distance between the axles and the frame.
Why Should I Lift My Jeep?
Everyone has different reasons to install a lift kit. Whether it's for off-roading or simply aesthetics, your reason for lifting your Jeep will dictate what kind of lift you install. If you are planning on doing any serious off-roading, you will want to lift your Jeep to increase ground clearance, suspension travel, and fit larger tires better suited for off-roading. People also tend to lift their Wrangler because it makes it look better. When it comes to lifting your Jeep you should factor in what you are planning to do with it, how much you want to spend, and how difficult it may be to install.
For most of us, our Jeep is a combination of a daily driver, off-road toy, camping vehicle, and perhaps a little towing here and there. If you are looking for a Jeep suspension lift kit for this multi-use situation, the goal is to find the proper balance between on-road drivability and off-road suspension flexibility. If you have the luxury of owning a dedicated wheeler, most of its higher speed handling traits can be sacrificed to maximize suspension articulation.
Just remember your Jeep's suspension is only one part of the equation; you must also address the rig's wheels and tires along with the drive train. The key is to get these three systems working together to provide the best possible traction at all times, on and off-road. Some of the more important questions to ask:
What is your Jeep being used for?
What size and type of tires would you like to use?
What are you willing to spend on your Jeep's lift?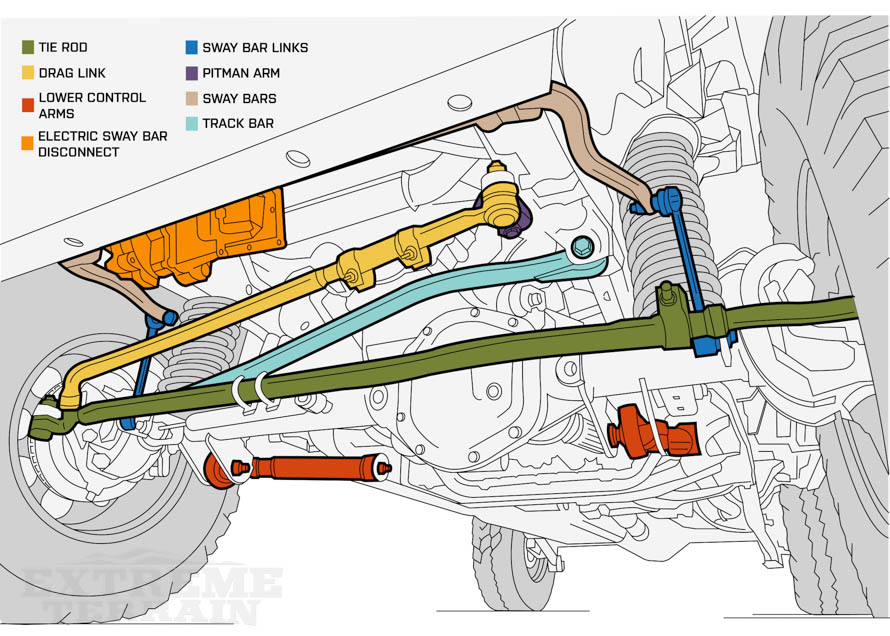 What to Consider Before Installing a Lift on your Wrangler
If you're not an experienced mechanic, it may be best to have your lift professionally installed to ensure it is done correctly. The installation process involves a lot of work and time spent under your Jeep. If you do not have experience in this area it may best to consult a professional to avoid any unintentional damage to your vehicle. If you install the lift yourself, you will likely spend hours under your rig tweaking everything over and over again… until it's just right.
If you're going for a larger lift (3.5 inches plus), then different lower control arms and longer shocks become a consideration. You will also need to lengthen the front and rear brake lines.
If you lift 4 inches or more, then you'll likely need longer upper control arms as well. Plus, you will need to replace the track bar, as well as longer emergency brake lines. As there are hundreds of kits to choose from, we've broken down the basics of each type to make it easier to decide.
Keep in mind that the 2-door and 4-door kits are indeed different from one another. The main difference is spring rates. The 4-door springs are going to be beefier in order to handle the extra weight.
Smaller Jeep Wrangler Lifts (1 Inch – 2 Inches)
If you just want a little more clearance under the transfer case or a little more room to run 31-inch tires, then a smaller lift is the way to go. Typically, smaller lifts will consist of coil spacers placed under the stock springs to give it a little bump in front height with long shackles in the rear. You could go with blocks in the rear IF you have new or strong springs. 1.5 inches to 2 inches is the most common "small lift".
Pros:
Factory ride quality is maintained
Very inexpensive so you don't break the bank
Quick and very easy to install
There are rarely any installation complications
Very few future mechanical issues related to lift
NOTE: Occasionally buyers get remorse, wishing they had gone bigger to begin with.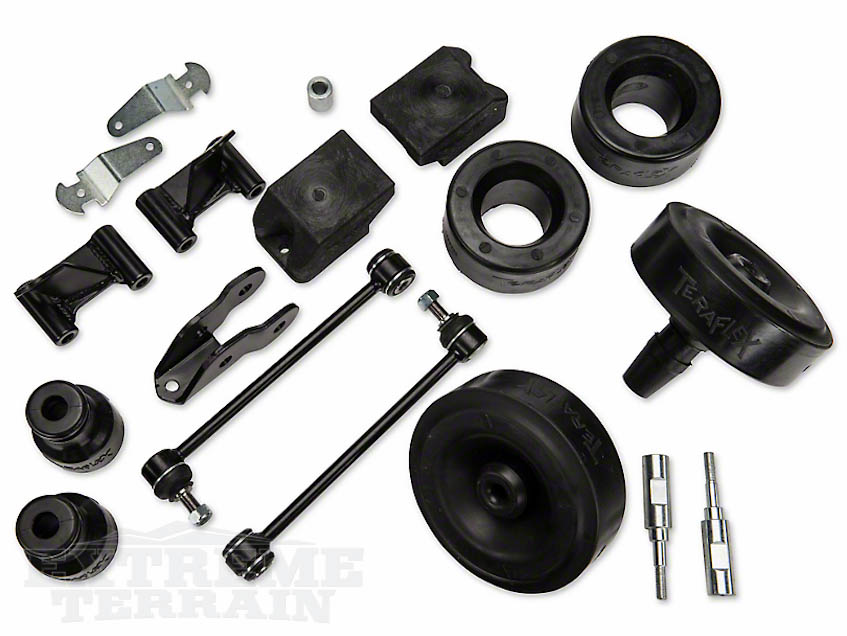 Bigger Wrangler Lifts (2+ Inches)
A larger lift results in a more aggressive look and amazing off-road performance while still maintaining a stock on-road ride quality. Larger lift kits for Jeeps typically come with a whole slew of parts, and it's a good idea to know what you're doing before installing one of these. Most people run 35-inch tires with good results.
Pros & Cons:
These are the most expensive lifts; even more so if you tack on coil overs
Complications are to be expected since some lifts redesign the entire front-end geometry
This is for the serious off-road enthusiast
How to Lift a Jeep Wrangler (JK & TJ)
For any generation Wrangler, installing a body lift is going to be different than doing a full suspension lift. In most cases, the suspension lift will be harder to do than the body lift. For the JK and TJ Wranglers, body lifts are performed as follows:
Remove the front lower shock bolts
Remove brake line bracketry and any other harnesses that might get pulled on while lifting/dropping the axle
Remove the sway bar end links
Remove the track bar bolts
Lower the axle to remove the coil springs. Be sure to keep an eye on everything under the suspension to ensure nothing is damaged while moving the axle
Remove the factory spring spacers. A pry bar is recommended, but be gentle
Install new coil spring spacers and reinstall the front suspension
The rear is the same as the front EXCEPT the rear has a transfer case breather you must remove and then reinstall as well as the parking brake lines
As you would expect, doing a body lift on a JK or TJ is fairly straightforward. Suspension lifts, however, is where things get complicated. Below is a simplified version of what you'll see in most manufacturer installation instructions. NOTE: Some manufacturers include which tire sizes they used with their lift kits. If you're trying to decide between two lift kits, check the installation instructions for the recommended tire sizes. The two kits might very well be different from each other.
Measure stock wheel distance (center of the rim to the top of inner fender). You'll use this information when re-adjusting the suspension
Remove front track bar bolt
Remove sway bar links
Remove the shocks
Loosen the control arms (if the kit requires long arm conversions steps will change)
Remove brake line brackets and other components that might be impacted by axle movement
Remove coil springs and spacers
Install new coil springs and components
Be sure to pay attention to the manufacturer's specific instructions with kits requiring further suspension changes (track bar relocation, bushing changes, pitman arm changes, etc.)
Once all new parts are installed, you'll need to reset your drag link alignment as well as steering alignment
How to Lift a Jeep YJ
Installing a body lift vs a suspension lift on a YJ boils down to body mounts vs leaf springs. Unlike the newer Jeeps, installing a set of coil spring spacers for a body lift isn't going to fly. Instead, you're going to have to remove all of the YJ's body mounts and reinstall taller mounts. A suspension lift on a YJ requires separating the leaf springs from the axle, and installing new shackles and leaves. Detailed below are summarized installations of both lifts. First up is body lifts.
First, you'll need to remove the air intake, coolant reservoir, and the power steering reservoir (coolant and steering dependant on the year)
Automatic models will need to have the shifter linkage removed from the frame
Remove radiator shroud bolts
Loosen all body mount bolts (11 in total). There's one at the center of the grille, three under each door, two above the rear axle, and lastly two at each rear corner
Remove old body bushings, and install old steel sleeves onto the new bushings
Install all new lifted bushings
Install new front bump stops
Install radiator shroud relocation brackets
Reinstall reservoirs and air intake
As you can see, the body lift on a YJ is far more complicated. To make matters worse, there are two different steel sleeve diameters. Manufacturers will include diagrams denoting which body bushings require which sleeves and where they're located. Suspension lift installations are detailed as follows:
Be sure to support the front axle with a floor jack after your rig is on jack stands
Remove sway bar links from the sway bar
Unbolt the track bar from the passenger side knuckle, and tie it up and out of the way
Remove the spring to axle u-bolts
Separate the axle from the leaf spring by lifting the shock tube with a floor jack
Remove the frame bolts and shackle bolts to remove the leaf spring
Install all new parts, but don't tighten anything down until the rear is complete. All suspension adjustments will be made after your Jeep is back on its tires and on the ground
Installing the lift in the rear is similar to the front, but you won't have to deal with the steering linkages
Jeep Body Lifts – the Cheapest Option
A body lift is an inexpensive way to lift your Wrangler. You can typically get a 1-3 inch lift without new shocks for under $200.00. Some body lifts are labeled as leveling kits. What does this mean exactly? A leveling kit eliminates the factory rake in the Wrangler (the front sits lower than the rear). Some leveling kits will lift your Jeep a little to eliminate the rake entirely, but these kits are usually only good for an inch or two.
If you install a body lift larger than 1.5 inches without new shocks you could reduce ride quality. 2-3 inch body lifts are where you start to encounter major suspension issues since the stock components won't be long enough to compensate for the extra height. Jeep body lifts work by giving you taller spacers and bolts that go between the frame and body of your Wrangler. With larger lifts, you will have to install extensions or new brackets for things like the radiator, shifter, fuel filler tube, and possibly your steering linkage.
You'll have to install new brackets so your radiator can be in the correct position for proper function, but you'll have to forego the fan shroud. You'll need to extend the shift linkage for it to fully engage properly due to the body moving while the transmission stays in place. Without an extension, the fuel filler tube won't be long enough to reach between the body and the tank. Your steering linkage support may have to be lifted to correct steering angles. If you don't change the steering linkages to handle the change in distance, stiffer steering is highly probable.
Pros:
Cheap
Allows for larger tires
Less of a change to the center of gravity
No change to driveline angles
Gives extra room to allow for high clearance skid plates
No need for slip yoke eliminator
1-1.25 inch body lifts work well with Jeep suspension lifts
Cons:
Larger lifts require extensions to shifter, fuel filler neck, 4WD shifter
Larger lifts require new brackets for radiator
Lifts above 1.5 inches could reduce ride quality
May require engine mount lift
Ground clearance is not gained from a body lift
No increase in wheel travel
Must remove the fan shroud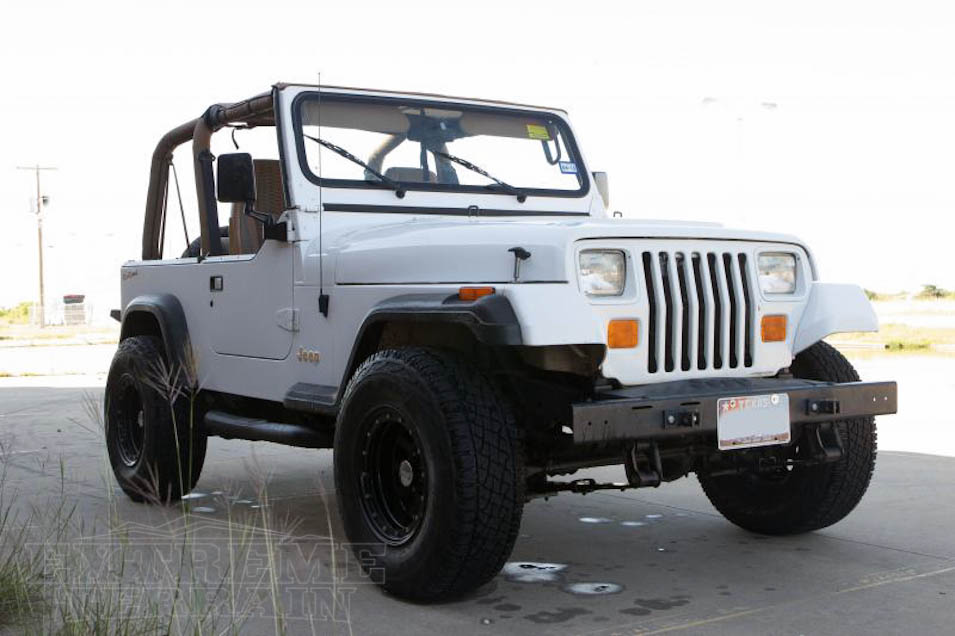 Budget Boosts – Coil Spring Spacers
A budget boost is a kit that will provide a small increase in a Wrangler's suspension height and uses either spacers that install on top of coil springs, or on a YJ, larger shackles. This Jeep lift kit is very simple to install, however, it can cause issues if you don't opt for new shocks or extensions. When a budget boost is installed with stock shocks, down travel will be limited. You may even run the risk of bending shock mounts.
Pros:
Cheap
Simple installation
Allows for slightly larger tires
Cons:
Will give poor ride quality if new shocks are not installed
Does not increase wheel travel
Mostly for looks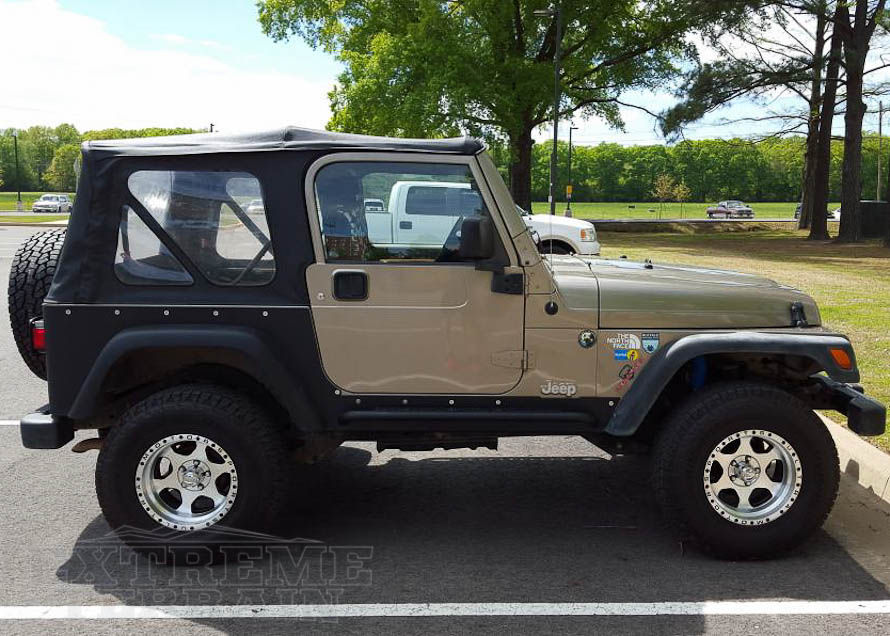 Short Arm Lifts: Differences Between the JK, TJ, & YJ
Jeep suspension lifts are sometimes called short arm lifts and are one of the most common Wrangler lift kits due to their mid-level price and effectiveness. These lifts range from 2-6 inches. The main downside of taller suspension lifts is anything over a 2.5-inch lift will require a slip yoke eliminator (On YJs and TJs) and a CV driveshaft to prevent driveline vibrations and other issues.
4.5-6 inch lifts are best suited for off-roading because they provide large amounts of ground clearance, articulation, and allow for some very large tires. This doesn't mean they can't be driven on the road, however, it may be less comfortable and less safe due to the increased center of gravity.
Short arm lifts generally include bigger coil springs, sway bar links, and shocks. Some may also use extended control arms, upgraded steering components, or more depending on the size and manufacturer. Coil lifts are often grouped with short arm lifts due to their similarity, however, coil lifts typically only include larger coil springs and possibly new shocks.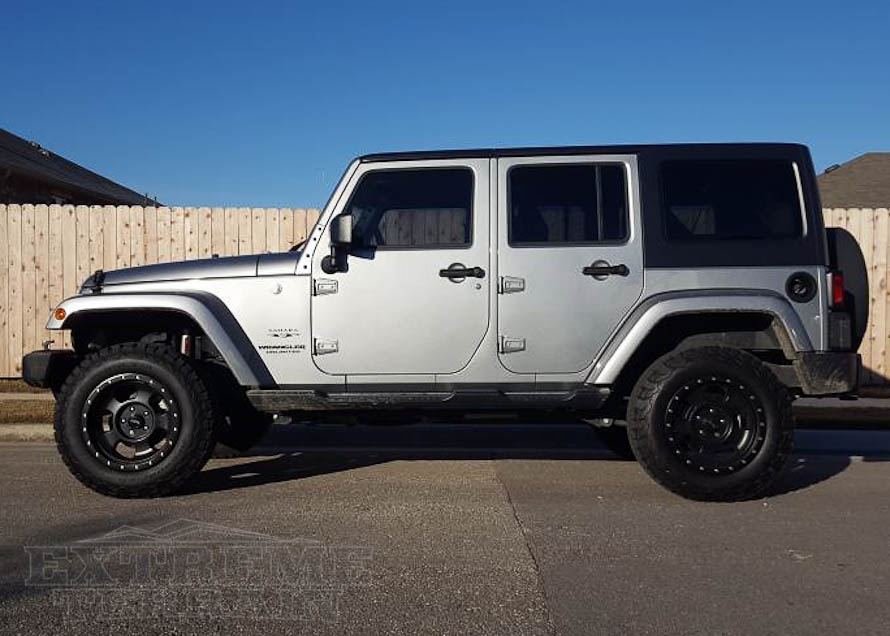 YJ Wranglers: YJs use a leaf spring suspension on both the front and rear axles. The main component of the lift is a new set of larger leaf springs. YJ Wranglers do not use control arms thanks to the use of leaf springs which are able to hold the axles in place while acting as springs.
TJ & JK Wranglers: In 1997, the Wrangler's suspension changed over to a 4-wheel coil type suspension which remains the stock suspension setup in Wranglers today. TJ and JK Wrangler lift kits use taller coil springs to increase the distance between the frame and the axles. Larger lifts may include new control arms to maintain suspension alignment providing smoother highway driving.
Pros:
Greater suspension travel
Increased ground clearance & wheel travel
Allows for larger tires
Mid-level price
Non-complex installation
Doesn't require modifications to shift linkage
Easier installation than long arm lift
Cons:
Higher center of gravity increasing tip hazards
More expensive than body lift
Lifts greater than 4 inches require modifications to the driveline
Larger lifts require extended brake lines
Can affect ride quality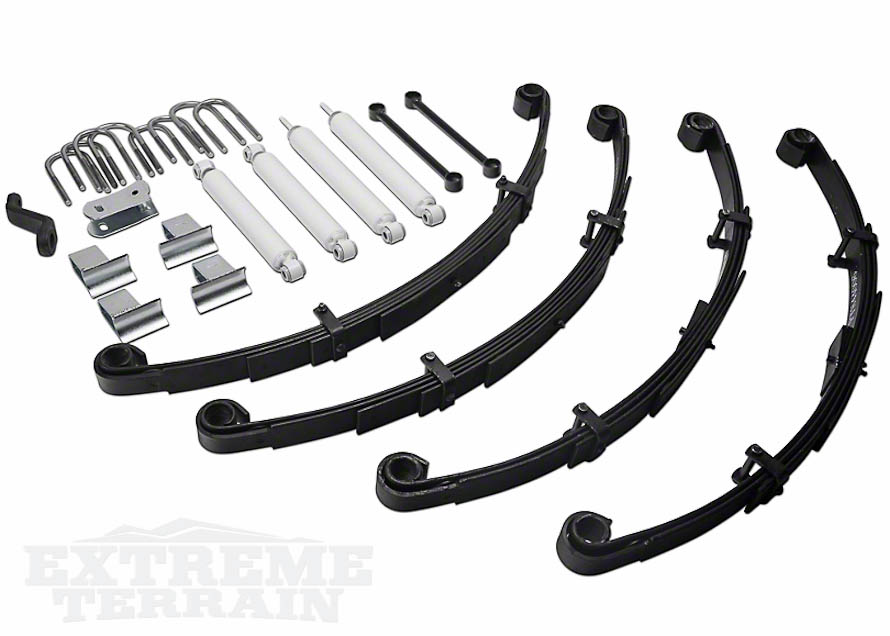 Wrangler Long Arm Lifts – Geometry at Its Finest
A long arm lift kit is a special form of suspension lift that uses longer control arms mounted further back in an attempt to bring suspension angles closer to the original. This form of lift provides better ride quality than a short arm suspension kit due to the better angels. However, a drawback of long arm kits is they tend to be expensive, and they are more likely to get caught on rocks when crawling due to the long control arms hanging down further. As part of the typical installation for most long arm lifts, you may need to modify your exhaust and possibly weld on new mounts for the longer control arms.
Pros:
Increased ground clearance
Greater wheel travel & tire clearance than short arm lift
Doesn't require modifications to shift linkage
Better ride quality than short arm lift
Cons:
Lifts greater than 4 inches require modifications to the driveline
Higher center of gravity increasing tip hazards
Usually most expensive form of Jeep lift kit
More likely to get stuck on rocks than short arms
Complicated install
What Size Lift Kit Do I Have on My Jeep?
Let's say you just bought your first Jeep. You want to start modding it right away, but you notice it has larger tires than stock. Is it lifted also? How do you tell? Step one: grab your tape measurer. Step 2: (if you're Jeep is a TJ) measure your springs.
Stock TJ Wranglers have 12 inch springs in the front and 8 inch springs in the rear. This holds true across all submodels. If your springs are larger than these heights, you have a suspension lift. Simply subtract the above values from the measured value and you have your lift height. Checking for body lifts is a function of seeing if you have coil spring spacers or not.
JK Wrangler heights are far more complicated. Chrysler decided to shirk the idea of having one set spring height. The possible combinations are staggering (20+), but the Jeeper community has settled on a tried and true method of finding out lift heights based on curb height. The below figures assume your JK has a full tank of gas and topped off on all fluids. First, put your Jeep in 2WD. Second, push down on front five or so times to get the suspension to settle. Third, grab you handy dandy tape measurer and measure the distance between the jounce bumper cup and the top lip of the inner spring seat on the axle. Below is the stock measurement ranges for JKs.
Front Curb Heights
2WD JKs: 2 inches to 3.5 inches
4WD Saharas, Xs, & Sports: 3.2 inches to 4.5 inches
4WD Rubicons: 3.3 inches to 4.8 inches
Rear Curb Heights
2WD JKs: 3.5 inches to 5 inches
Short Wheel Base 4WD Saharas, Xs, & Sports: 4.5 inches to 6 inches
Long Wheel Base 4WD Saharas, Xs, 7 Sports: 4.7 inches to 6.2 inches
Short Wheel Base 4WD Rubicons: 4.6 inches to 6 inches
Long Wheel Base 4WD Rubicons: 4.9 inches to 6.4 inches
Wrangler Tire Sizes and Lift Heights
As you increase the size of your Jeep's tires, there are a variety of Jeep suspension upgrades you'll need to accommodate the necessary clearance for the tire both on and off-road.
Upgrading to 33-inch tires: There is very little to do if you plan on increasing your stock tire size to 33s on JK Wranglers. On-road, the JK Wrangler can accommodate most 33 inch tires without any modifications. If you plan on going off-road, you'll need a slight increase in lift to give you the proper amount of clearance. In most cases a simple 1.5 inch "Budget Boost" is enough to provide the needed clearance. Most budget boost lifts include the following:
Front and rear spring spacers
Front and rear shock spacers
Longer front sway bar links
Extensions for the front and rear brake lines
Upgrading to 35-inch tires: If you plan on upgrading to a 35-inch tire, you will need a lift of at least 2.5 inches for proper clearance. A good 2.5-inch lift should include the following:
Front and rear springs
Front and rear shocks
Front and rear brake lines or extensions
Front and rear sway bar links
Top or bottom front control arms
Front and rear track bars
Upgrading to 37-inch tires: increasing your tire size to 37 inches or more will require a lift kit of at least 3.5 inches or more. A good 3.5-inch lift kit should include the following:
Front and rear springs
Front and rear shocks
Front and rear brake lines
Front and rear sway bar links
Top and bottom front and rear control arms
Front and rear track bars
YJ Lift and Tire Combination Reference Chart
For a quick reference one what tires sizes pair well with your Jeep's life kit, look no further than the tables below. On the left column we have lift heights, and the top row denotes tire diameter.
Green cells indicate that lift kit and tire combination requires zero modification to your fenders in order to run it safely.
Yellow cells indicate you'll either need to modify your existing fenders or replace them with flat aftermarket fenders in order to run your desired combo without rubbing.
Red cells indicate you'll need a substantial amount of fender modifications to run the combo.
Black cells, as you might have guessed, indicate combinations we don't recommend. You're looking at custom fabrication work to make the set work at the very least.
How Much Does it Cost to Lift a Jeep?
A common question, and the answer varies depending on how high you want to go and what Jeep suspension parts you'll want to replace. Here we'll detail the more common lift kits for Jeeps and additional parts (assuming you end up purchasing said parts separately from the lift kit). Wheel and tire combos are excluded from this list.
1 inch – 3.75 inch lift kits: While the smaller lift heights (1-2.5 inches) are usually body lifts, this height range also has more inclusive adjustable kits. Expect to pay $100-$200 for a Jeep body lift kit, $400 for a basic suspension kit, and several thousand dollars for the higher end, adjustable kits. YJs, because of their leaf springs, can expect to shell out closer to $600 for a basic 1 inch – 3.75-inch kits.
4 inch – 4.5 inch lift kits: Here's where things get expensive. At four plus inches of lift height, you'll be replacing more than shocks and springs, and the price tag reflects as much. Expect to see suspension lift kits in the several thousand dollar range to reach these heights. YJ specific lift kits are around $800 or more.
5 inch lift kits: More expensive than one stage lower, these kits frequently see $3,000 price tags. Again, for similar reasons as the 4-4.5 inch kits. Most of these kits will include everything you need to reach five inches or higher without the need for purchasing additional parts. YJ Wrangler kits will hit the $1,000 mark.
Additional parts to consider are long arm conversion brackets ($500). These brackets are weld-on units designed to provide a solid mounting place for the longer control arms necessary for more aggressive Wrangler lift kits. Other items include:
Slip yoke eliminator kits (YJ, TJ): $250-$300
CV driveshafts (YJ, TJ): $500 to $900
Exhaust spacers (JK): $50
Aftermarket control arms: $300-$600
Track bars: $250-$400
Extended brake lines: $60-$150
Keep in mind shop installation prices will vary from area to area. Getting a quote for replacing shocks and springs is a way to get a rough estimate for having a lift kit installed. Should you need longer control arms or other components, that price will naturally increase.
Other Mods Needed to Run Larger Tires & Lifts
Certain tires sizes require minimum lift heights. In doing so, a lift can affect your Jeep's geometry in a couple of ways.
Stock to 33 inches: The stock tire size leading up to a 33-inch tire can be installed without modifications or along with a basic lift kit ("Budget Boost"). This basic lift kit usually consists of spacers for the stock springs and shocks. They don't have a noticeable effect on the overall geometry of the Jeep, but will provide the needed fender clearance to properly use a 33-inch tire on the trail.
33 to 35 inches: This tire range introduces the need for a moderate lift kit ranging from 2.5 to 3.5 inches. The additional lift height introduces the need to correct the Jeep's geometry through the use of front and rear track bars and at least upper or lower front control arms to realign the front axle under the Jeep.
35 to 37 inches: the introduction of a tire size larger than 35 inches requires a more advanced lift kit of over 4 inches. These Jeep lift kits replace the majority of the Jeep's stock suspension and will also require new driveshafts. The geometry will need to be properly aligned through the use of the front and rear, upper and lower control arms. In addition, the front and rear track bars will need to be elongated to re-center the axle.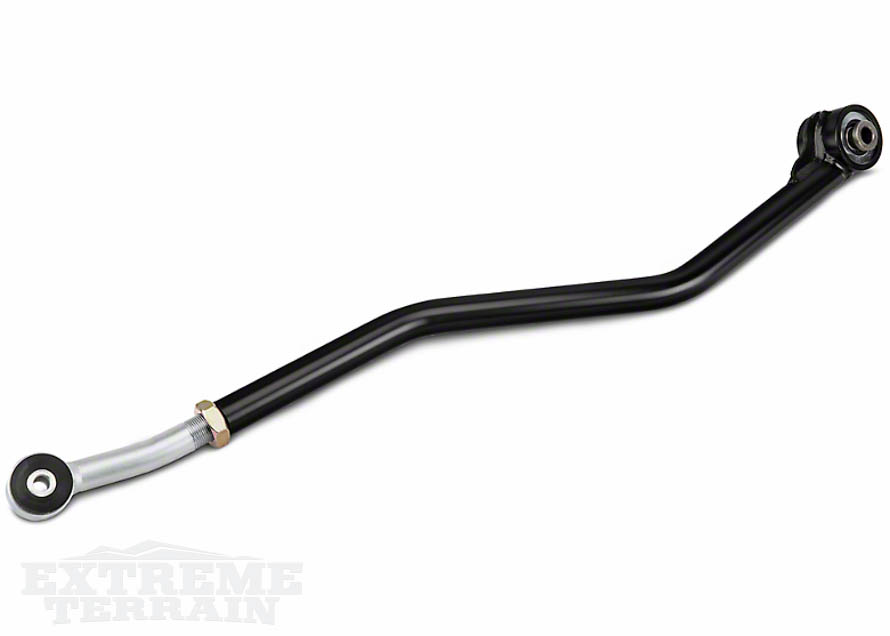 How Fender Flares Affect Lift Height
Fender flares do not increase tire clearance unless the fenders themselves are altered. This is because flares stick-on or bolt-on to the outside of the wheel well. Flared fenders increase the room available to the tires within the wheel well but still leave very little room for larger tires to work with small lift kits.
With wider fender flares and fenders, the larger wheels may be brought outward to reduce binding issues while still being covered by the flares, and keeping you out of trouble with the law. Though, with tires that are too big for the lift kit you are using, you will still likely run into rubbing or binding issues with suspension components.
Slip Yoke Eliminators – Keeping Your Driveshaft Spinning
While irrelevant on JKs because of their CV driveshafts, TJ and YJ Wranglers with any form of suspension lift over 2 inches should consider adding a slip yoke eliminator as well as a CV driveshaft to prevent driveline vibration. After about 3 inches it should be considered essential. This is because 3 inch lifts can cause driveline vibration, accelerated wearing of U-joints, and in some extreme cases your rear driveshaft could slide out of your transfer case when your Wrangler flexes. A slip yoke eliminator gets rid of the slip yoke in your rear drivetrain and replaces it with a fixed flange in order to allow a CV driveshaft to be installed. A CV driveshaft allows for greater driveline angles without vibration.
When Do I Need a New Driveshaft?
It's easy to misinterpret actual lift estimates when buying a lift, because manufacturers estimate the increase in height based on a fully loaded Jeep. A fully loaded Jeep is considered one running full front and rear steel bumpers, winch, and underside skid plates. Within those specs, a 2.5 inch lift will net you about 2.5 inches. In cases where a lift is installed in an otherwise stock Jeep, the actual lift is considerably more and could easily reach close to the 4 inch mark. This can cause serious concerns for the driveshafts. A good rule of thumb is to replace the driveshaft in a lift that nets close to 4 inches of actual lift. Manufacturers prefer to err on the side of caution and base their estimates on the worst case scenarios while still fulfilling their advertised estimates. If you get more than advertised they consider that a good thing.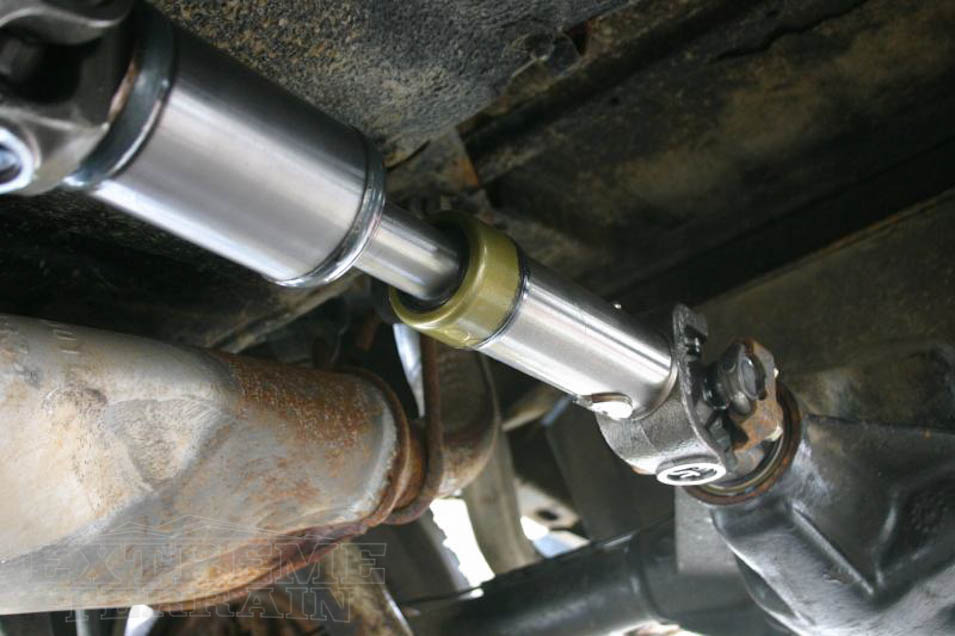 Automatic Driveshafts & 2012+ Exhaust Problems
One of the drawbacks when lifting your Jeep with an automatic transmission is the driveshaft. The automatic transmission is larger than a manual transmission, and therefore utilizes a smaller diameter driveshaft due to space limitations. This is obviously weaker, and in newer 2012 Jeep models, offers a significant problem when lifting a Jeep.
For 2012 and newer Jeeps with the Pentastar engine, a larger lift might cause contact issues with the front part of the exhaust cross-over pipe and the front stock driveshaft. In some cases, if the lift is high enough, it will angle the driveshaft enough that the rubber boot will come in contact with the hot exhaust pipe and melt or actually rub, causing significant damage. An aftermarket thinner driveshaft would solve this issue or a new aftermarket pipe might also provide enough clearance. However, the cheapest solution is an exhaust spacer. These are aluminum spacers placed between the exhaust flanges, pushing the cross-over pipe back and lower, allowing enough clearance for the driveshaft.
In addition, when lifting a Jeep, there's an increase in angle to the driveshafts, which if not corrected, could also lead to premature failure during extreme articulation use on the trail. Two door Jeeps in particular are more prone to this type of problem, due to the shorter wheelbase. Four door models are still subject to the same issue and should be monitored closely, especially while on the trail.
Keeping Proper Alignment – Control Arms & Track Bars
Control arms keep the axles properly center and angled correctly. If you install a new, longer driveshaft, you'll need longer control arms to properly center the axles and correct caster angles. Along with front and back adjustment of the axles that control arms provide, you may need to adjust the side-to-side centering of the axles.
Side-to-side adjustments are done with the track bars. Both the front and rear axles require track bars, although the rear axles can often be taken care of with a simple bracket that clamps onto the axle and raises the lower contact point of the track bar, allowing it to be properly centered under the Jeep. The front track bar often requires a new adjustable bar that can extend to swing the axle back into the center position. Extending the track bar pushes the axle towards the passenger side and properly centers it under the Jeep.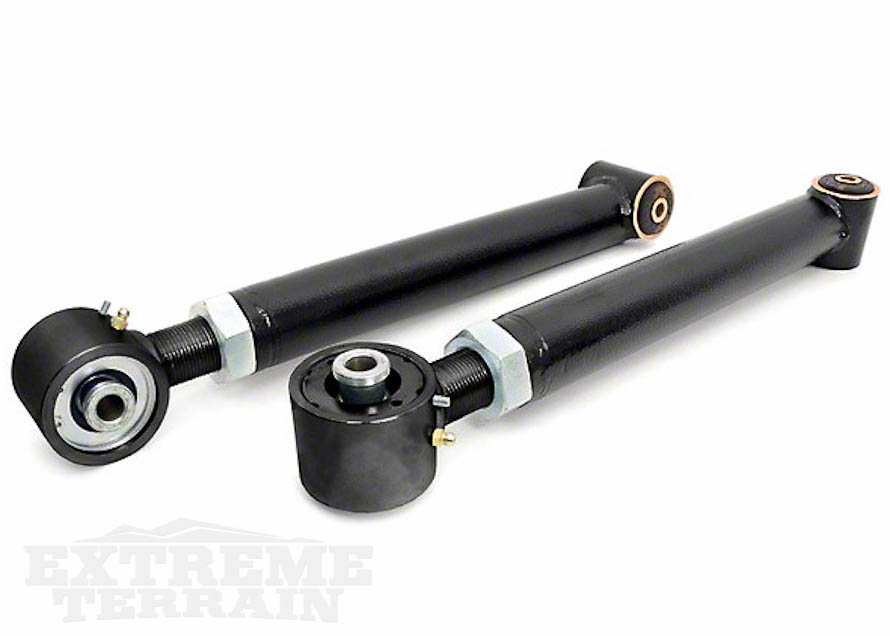 Often Overlooked – Longer Brake Lines
Finally, brake lines could also become an issue. Although they are often included with most 2.5 inch Jeep lift kits, they still might be needed with smaller leveling kits. Sometimes brake line extensions are enough to provide the needed clearance. In more severe cases new, longer lines may be needed and are a good overall investment.​
Although there might be additional smaller components needed, those listed in this guide are typically the most critically overlooked pieces in entry-level kits and some of the most significantly impacted pieces. It's always best to take these parts into consideration when budgeting for a lift kit that's 2.5 inches or more.
Aftermarket Bump Stops Differences
Bump stops are the last line of defense in terms of your Jeep's suspension. Once your shocks and springs fully compress, the bump stops are there to keep metal from impacting metal. If the bump stops fully compress, you risk having your coil springs collapsing on themselves.
The stock quality bump stops are generally rubber. They're cheap and easy to work with. The first aftermarket variety you'll notice is urethane. Slightly more durable and better in terms of rebound performance, they're still harsh enough that you don't want to be making extreme elevation changes if you can help it.
Nitrogen bump stops are actually gas-filled. Much like an actual shock, nitrogen bump stops are not a fixed rate dampener. These provide a smoother ride and are a great compliment to a dedicated rock crawler.
When deciding on bump stops for your lifted Jeep, it's not an exact science. Each lift kit's shocks and springs will have a different dampening rate than another brand. Be sure to read the descriptions on the bump stops you're interested in since they'll be able to give you a good idea of what lift heights they can handle.
Go with What Makes You Comfortable
Going bigger on your Wrangler is not as scary as it can seem at first. I once traversed the entire Rubicon Trail on a 3.5 spring-only lift with 35 inch tires, and didn't have a problem getting myself unstuck when it happened. I would have been more comfortable with 37 inch tires, but the 3.5 lift suits me perfectly. (This is in a 2007 Jeep Wrangler JK Unlimited.) If you do your homework, ask your friends, and read reviews, you will find a lift that is right for you. Happy Wheeling!