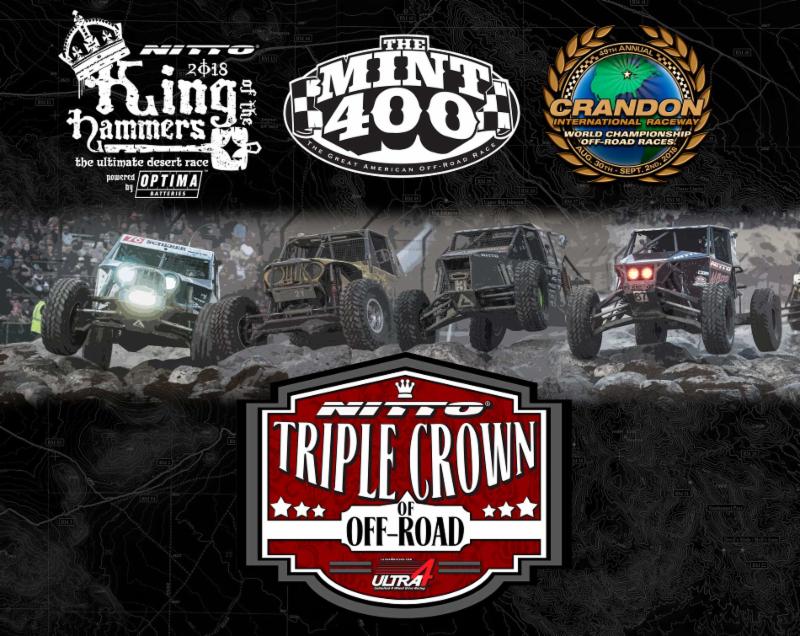 The following press release was published as a public service by KrawlZone. All images and content are property by their respective owners.
Read this press release from the Ultra4 Website!
JOHNSON VALLEY, CA – JANUARY 9th, 2018: From the punishing rocks of the Hammers in Johnson Valley, to fear and loathing over 400 miles in Las Vegas, all the way to the "Big House" in Crandon, the Nitto Triple Crown of Off-Road promises to be one for the record books.
The 2018 series will pit the top ULTRA4 drivers against each other in the three most epic off-road races in North America: Hammerking's Nitto King of The Hammers Powered by Optima Batteries, Best in the Desert's BFGoodrich 50th Mint 400, and the 49th Annual World Championship Off-Road Races(R) at Crandon International Speedway.
The unlimited 4-wheel-drive vehicles, known as ULTRA4 cars, will, for the first time ever, have an opportunity take part in this three-race series starting with KOH Week in February in Johnson Valley, CA.  Each ULTRA4 driver invited to take-part can only race one vehicle in all three races. Each race will showcase the vehicle's ability to handle differing elements of off-road racing. KOH features the most brutal 4WD terrain, The Mint is 400 miles of endurance high-speed desert racing, and Crandon features the widest, fastest short-course tracks in the country. The winner of the Triple Crown will receive $15,000 in prize money and bragging rights as the fastest driver in the toughest car in all of ULTRA4 for 2018.
To receive an invitation to the Nitto Triple Crown, drivers must either finish KOH 2018 in the 4400 class or have finished top 20 in the 2017 ULTRA4 Nitto National Championship Series.  All drivers invited to race at the Mint as part of the series will have a chance to race the Friday night Ultracross feature race in Crandon, but only the top 30 drivers from Friday night's race will make it into the main event — the Crandon World Cup on Labor Day Sunday to be crowned a Crandon World Champion and the winner of the Nitto Triple Crown. All Drivers must commit to an ULTRA4 Regional Series to participate in The Triple Crown. These are additional races and cannot be raced in lieu of regional races.
2018 Nitto Triple Crown of Off-Road Races and Dates
Nitto King of The Hammers Powered by Optima Batteries
February 9th, 2018 – Johnson Valley, CA
BFGoodrich 50th Mint 400
March 10th, 2018 – Las Vegas, NV
 40th Annual World Championship Off-Road Race
August 31st & September 2nd, 2018 – Crandon, WI
---
Reminder! Live Show Tonight from 4 Wheel Parts 
Transamerican is doing give-aways for the in studio audience for tonight's live show. Join us in Compton at 4 Wheel Parts tonight and you may be eligible to receive one of the following: 
Smittybilt Prize: Recovery Accessories with bag (stuff with goodies)
Pro Comp Prize: Set of Four Pro Runner Shocks
Rubicon Express Prize: $250 Rubicon Express Product
G2 Axle & Gear Prize: Brute Differential Cover
The KOH Pre-Show will be live January 9th at 6:30PM at 4 Wheel Parts in Compton
You can join us in person or online! Drivers and Fans local to the Southern California area are encouraged to join us on site. The annual event is a great place to learn some clues to the race course from Dave Cole himself. More than 400 teams are already registered for what is expected to be the Largest KOH Week to date, you'll want to hear the latest updates for yourself.  We will also open up the conversation to any questions you may have at the end of the show! If you can't be there in person be sure to join us live online!
---
Pre-Purchase your KOH Tickets and Save Money! 
Tickets for KOH Week are on sale at
www.ultra4license.com
  cost in advance is $20, cost at the gate is $30! Tickets must be purchased by January 29th!  Pit Crew Tickets may also be putchased at this link for $25. Save time at the gate by having your tickets purchased in advance, all you will need is a copy of your scannable code and you're good to go!