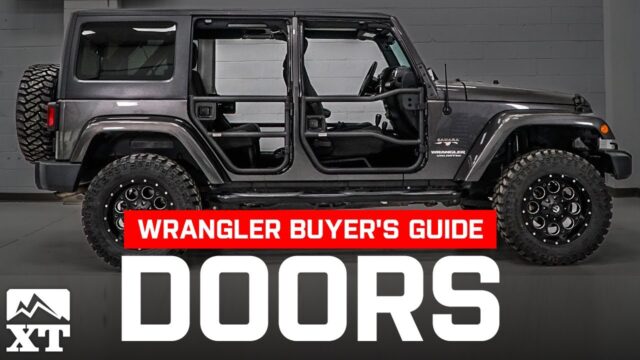 Content provided by Extreme Terrain!
Give your Jeep Wrangler a tough new look with our custom Jeep Wrangler doors and door accessories. After they replace the tires, the next modification most off-roading enthusiast make is to replace their stock Jeep Wrangler doors with aftermarket versions. Depending on what type of activities you enjoy, these replacement parts can help you get closer to nature, while they protect you and your passengers from the elements and road debris. The kits we sell feature Jeep half doors made from hard and soft materials. For regular off-roading, we offer pairs of lower half doors that are a cinch to install on standard Jeep Wranglers. We also have a large selection of safari and trail doors that open up the cab of your vehicle to the great outdoors.
We have Jeep Wrangler tube doors made from tubed steel that act as guardrails rather than solid doors. These beauties are built to allow more air flow into your Jeep Wrangler so you can be one with the environment around you. Jeep tube doors are also sturdy enough to offer some protection against trail debris. We also have solid plate doors designed for maximum protection while driving around. These ridged doors are very durable and the perfect tool for off-roading.
When you install our Jeep doors we offer many different adjustable door straps to help make the installation process a bit easier to go through. We also offer Jeep Wrangler door garage wall mounts, so you can put your doors up and out of the way in your garage when you aren't using them. Store your doors in a place where they will be safe from scratches and dings until you're ready to use them once again on your Jeep Wrangler.
If you just want to change the look of your Jeep Wrangler, you can also make use of our Jeep Wrangler door skins. These skins go onto existing doors quickly and easily and can alter the look of your Jeep Wrangler dramatically. Add cool patterns to your doors, or just change the color of your doors rapidly. It's up to you how our Jeep Wrangler doors look, and you can easily switch from one style to the next with Jeep soft doors or a door skin change. Use our interchangeable doors to help you outfit your Jeep Wrangler for any trip that you plan to take. Get several different doors to swap out depending on the conditions, or just invest in a good set of all-around doors that you use throughout the year for protection and style.
Removing the doors entirely is also an option. For the most in open air cruising, investing in a set of Jeep foot pegs for yourself or you passenger will maximize that off-the beaten path feeling. These foot pegs mount just outside the door frame, so you can stretch a leg. On longer road trips, be sure to take breaks where appropriate.
Related Guides
Fitment Includes:
Rubicon, Sahara, Sport S, Sport, Unlimited, Islander, Rocky Mountain, Renegade Wranglers
*Please see product pages for any exceptions.
PAOLI, Pa. (August 11th, 2020)– ExtremeTerrain (XT) launches a new video aimed at helpingJeep JK, YJ, TJ, and JLowners in their quest for the best aftermarket door.
XT host Sara Riordan, breaks down 4 of the most common dooroptions, outlining the features and key considerations for each one. Sara demonstrates each door on a Jeep Wrangler JK,explaining that all four options are available for other gens onExtremeTerrain.com.Sara begins with the first option, the half door. As the name implies, the lower half is generally of solid construction,while the window area is left open to the air.
This popular door is for Jeep owners looking to change out their standarddoors for a more classic look. Next up is the tube door. This low-profile door is ideal for those who like to go doorless,but want a door with extra protection and substance. The third option is the trail door or adventure door. Sara describesthis door as"one step up from the tube doors, with addedprotective features for those…who want a little more standingbetween them and the trail."And finally, the full fabric door is a 2-piece lightweight door that's easy to install. The half-door can be used alone or along with the window section for a bit more protection. Unlike the other doors, the fabricdoors can be pulled off mid-trail and stored in the back of the Jeep thanks to their small storage footprint. Armed with a T50 socket, a ratchet, and some know-how from ExtremeTerrain.com, Jeep owners have what they needtoswap out their factory doorsfor one of the four popular categories outlined in the new video.
2-door Wranglerowners are also covered since most options sell the front and rear doors separately. For those looking to beef up theirdoors, go for a unique look, or become one with the trail, XT's new video promises to guide them through the researchstage with ease.View it here:https://www.extremeterrain.com/wrangler-jeep-doors.html
___________________________________________________________________________________________
About ExtremeTerrain
ExtremeTerrain.com is a leader in aftermarket Jeep Wrangler, Gladiator,Toyota Tacomaand Tundrapartsandaccessories. Located just outside Philadelphia, PA, ExtremeTerrainprovidesWrangler,Tacoma, and Tundraowners withfast shipping and enthusiast-level, award winning service,while also ensuring the conservationand protection of off-road trails. Visit http://www.extremeterrain.com.