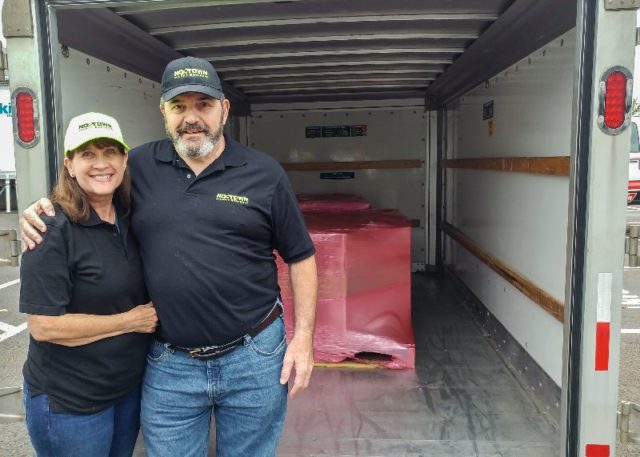 Company donates 15 winches to 'No Town Left Behind'
Clackamas, OR (12/18/19) – Warn Industries has donated 15 truck winches to the non-profit disaster-relief organization, No Town Left Behind. The group provides all-inclusive disaster support services, volunteers, and supply distribution to assist towns impacted by disasters. Most recently, No Town Left Behind has been assisting in The Bahamas after Hurricane Dorian devastated the country.
No Town Left Behind's Founder and President, Kimberly Goreham, says, "This special donation will literally help us move trees and debris out of our way and will allow our teams to do vehicle recoveries, self-recoveries, and so much more. There are even plans to install a winch on The Sea Reaper, an ocean-going vessel to help us move cargo by boat when needed."
Kimberly says the organization's mission is to move emergency relief supplies to communities in need after natural disasters. With the help of their community sponsors, they have moved over 45 million pounds of supplies in the last two years, and aided in 13 major storms, fires, and floods. Group members travel through the most challenging of terrains and the vehicles and equipment are the team's lifelines. The winches will be used on their Emergency Response Team's vehicles.
 
Founded in 2004, No Town Left Behind helps communities affected by natural disasters on many levels. From distributing emergency supplies to search and rescue operations, the organization believes that "many hands lighten the load for all." They are often the first wave of help on the scene of a disaster. No Town Left Behind is a 501(c)3 non-profit.
 
About Warn Industries
Warn Industries is the world's most recognized brand in off-road products such as hub locks and vehicle recovery winches. The company designs, manufactures and markets a full line of off-road equipment and accessories that enhance the performance of four-wheel-drive and powersport vehicles. Warn Industries is headquartered near Portland, OR.