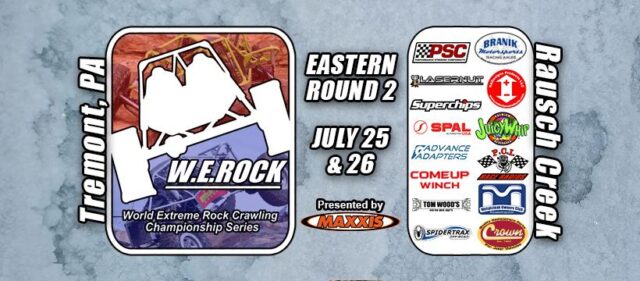 WE Rock Eastern Round 2 is back at the premier off-road event center of the East Coast! Rausch Creek in Tremont, PA hosts several events throughout the year and we are excited to be back on these rocks once again! The action starts on Saturday, July 25th at 10 a.m. and will run through approximately 4:00 p.m. Then followed by day two on Sunday, again starting at 10 a.m. Follow Signs to event site:
Rausch Creek
453 Molleystown Rd
Tremont, PA 17981
Message from Big Rich Klein, CEO/President of WE Rock Events
WE Rock Eastern series event #2 at Rausch Creek Off-Road Park in PA.
July 25-26
We are back in PA at Rausch Creek Off-Road Park enjoying the weather and our eastern WE Rock family.
The forecast is a whole lot of awesome with temps on the mountain and the breeze that will make all the spectators and fans happy.(drivers too!, after a hot mess in Texas last month, they deserve good temps!)
With a mixture of man-made and natural formations, this is a rare treat for the teams. We look forward to a strong unlimited field, with at least one west coast team and our ever-growing unlimited eastern teams in attendance. Sportsman classes will have a good turn out and watching these teams is never boring.
Spectators will be able to watch the action from the flats that surround the courses here. Bring shade, chairs, and water to make the day more enjoyable.
Come wheel the park as well as enjoy the competitive action from great teams.
Toilets and a food vendor are always on-site, as well as WE Rock swag. See you there!