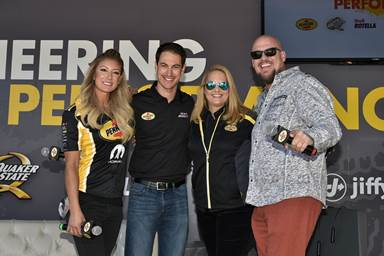 PENNZOIL spotlights PERFORMANCE WITH PROFESSIONAL MOTORSPORTS DRIVERS in new 'MY CAR' campaign
All Eyes Were on Joey Logano and Leah Pritchett as They Took on the
Shell Pioneering Performance Stage at 2018 SEMA Show
Houston – October 31, 2018. At the 2018 SEMA Show, Joey Logano, Leah Pritchett and Pennzoil executives showcased the brand's newest ad campaign, 'My Car'. The Campaign, features professional motorsports drivers who have Made the Switch and rely on Pennzoil Synthetics for protection and performance in their cars, cars that share similar needs to the average daily drivers. The My Car campaign features Pennzoil motorsports drivers, Daytona 500 winning Joey Logano, record-setting NHRA Top Fuel dragster driver Leah Pritchett, and three-time Indy 500 champion Helio Castroneves, in a collection of professional series bringing to life how the relationship between a motorsports team and motor oil goes well beyond a paint-out.
"Through the My Car campaign, we demonstrate the unique relationship Pennzoil has in supporting our sponsored drivers and their vehicles from Team Penske and Don Schumacher Racing," said Patty Lanning, Vice President of Shell Lubricants North America Marketing. "In racing, tenths of a second make the difference, so every bit of performance counts and that's why these motorsports athletes rely on Pennzoil Synthetics for the confidence they need to help them get ahead and stay ahead on and off the track."
From the 200MPH speeds that Joey reaches in his cup car, the extreme accelerations Leah pushes her vehicle to, and the demanding driving conditions Helio races his car in to your daily driver – Pennzoil Synthetics is the common denominator.
"This is the first time that Pennzoil is bringing our professional drivers together from multiple motorsports disciplines," said Patty Lanning. "The My Car campaign reinforces that if Joey Logano, Leah Pritchett and Helio Castroneves feel confident behind the wheel with Pennzoil Synthetics under the hood, so can you."
The partnerships provide Pennzoil with the ability to test existing and new motor oil technology, developed by Pennzoil's industry leading scientists and engineers, to gain insights from the track that translate directly into the formulation of its consumer motor oils. Pennzoil continues to push the advancement of its motor oil technology and develop formulations to help maximize ultimate performance and engine reliability for the team throughout the race seasons.
You can enjoy the full My Car videos by visiting: www.YouTube.com/Pennzoil
Follow all the action and updates from the 2018 SEMA Show on social media via #ShellatSEMA and check out www.shell..us/sema for a full schedule of events at the Shell Pioneering Performance experience and live stage. For more information about the relationships between Pennzoil and motorsports teams, visit www.Pennzoil.com.
About Pennzoil®
At Pennzoil, we're car people. We love cars and the role they play in our lives. That's why we tirelessly strive to produce the most technologically advanced, highest performing motor oils on the market. Pennzoil has made the switch to natural gas technology to make purer synthetic motor oils that lead to better performance than motor oils made from crude oil. Every bottle of Pennzoil Platinum®, Pennzoil Ultra Platinum™ and Pennzoil Platinum® High Mileage Full Synthetic motor oil is formulated with PurePlus® Technology. PurePlus® Technology is the revolutionary process, which converts natural gas into high quality full synthetic base oil, with fewer impurities than traditional base oils made from crude oil.
* Based on a survey of private motorists, between the ages of 18-64, who own or lease a car in the US, between January 2016 and December 2016.