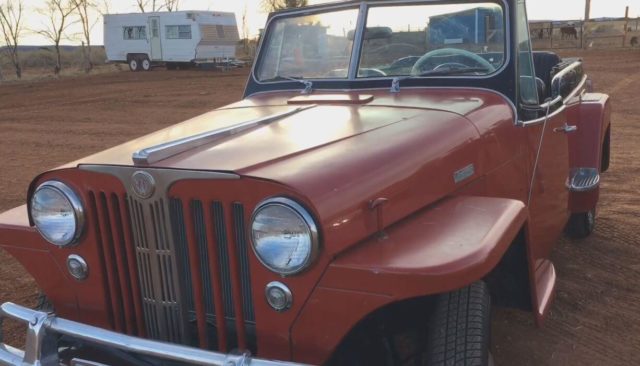 Nobody's classic Willy's Jeepster find has Mister KrawlZone feeling giddy with jealousy. But Nobody smooths things over by letting his buddy, take this classic for a drive.
It all started with a picture that John Jacobs, (aka Nobody) texted to my phone a few months ago. The photo was of a classic, early 50's Jeepster. Not the rugged kind of Willy's you might be used to. Rather a convertable Sedan of sorts really, but featuring that Iconic Willy's Grill usually associated with the early utility wagon. Black and red, wit a white top, chrome trim and black seats.
Under the photo was the caption, "Look what I got". I started to drool. This was by far the nicest car John has ever had the chance to own. My first question was whether or not he had a garage to keep it in. It was too nice of a find to just leave out in the back yard to collect sand and be beat by the weather.
Once he assured me he had a nice place to keep it my heart settled down. I was really excited to see it in person and this past week I had my chance. My favorite part of it is the three on the tree. My first car in high school had a three on the tree, and being able to drive the ol Willy's Jeepster and shift that ol' column sitting next to my high school buddy… well it brought back a lot of nostalgic memories of our adventures from back in the day.
We're excited to share this rare piece of classic Jeep history with you. Here is a simple little clip of me getting to put around, but you'll get to see it in our booth at the Winter 4×4 Jamboree. We'll be doing a segment on it for our first episode of 2020 and we'll give you all the details on this amazing find.
Until then. Jeep On!