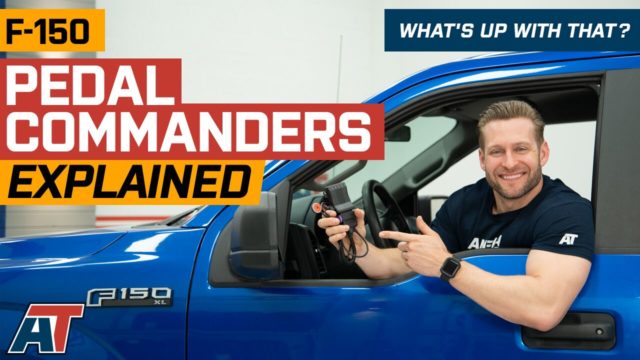 F-150 Throttle Boosters Tested | How Do Pedal Commanders Work?
In this video, Justin and the team are putting F150 pedal commanders to the test to see exactly how they reduce throttle lag. The SEC10 Response controller is used in our highly scientific experiment to see exactly how it improves throttle response.
PAOLI, Pa. (May28th, 2019)–In this episode of AmericanTrucks' (AT) "What's Up With That" YouTube video series, host Justin Dugan brings robots and science to the AT video studio to demystify electronic F-150 throttle enhancement devices. Unlike an F-150 Tuner, products like Pedal Commander, PedalMAX, Throttle Booster,and Throttle Response Controllers are all designed to increase throttle response,whiler educinglag time, in vehicles with drive by wire technology—specifically 2004+FordF-150's.
For the experiment Justin uses a programmed linear actuator, which would usually function as a camera slide, to create the controlled and repeatable throttle inputs needed for his test. Cycling through six drive modes on the throttle controller device, Justin monitors pedal position voltage and ECT angles, using the REV-X Tuner by SCT, to physically demonstrate their output in each mode of his F-150 test vehicle.Watch it here:https://www.americantrucks.com/the-haul-news-may2019-2.htmlProducts featured in this video include:SEC10 Throttle Response Controller,REV-X Tuner by SCT,Pedal CommanderBluetooth Throttle Response Controller,JMS BoostMAX Performance Booster, &Amp'd Throttle Booster w/ Switch________________________________________________________________________________________________________About AmericanTrucksAmericanTrucks isregarded as one of the best, most reliable online aftermarket retailersprovidingtruckparts and accessoriesforF-150,F-250,Ranger,Silverado, Sierra,andRAM. Catering to the needsand demandsof late-modeltruckowners and enthusiasts,AmericanTrucksprovides thebestpartswith supportfrom genuine truck experts. Located just outside of Philadelphia,AmericanTrucksis dedicated to offering thetruckcommunity with the highest quality of parts andcustomerservice. Please visithttps://www.americantrucks.comformore information.