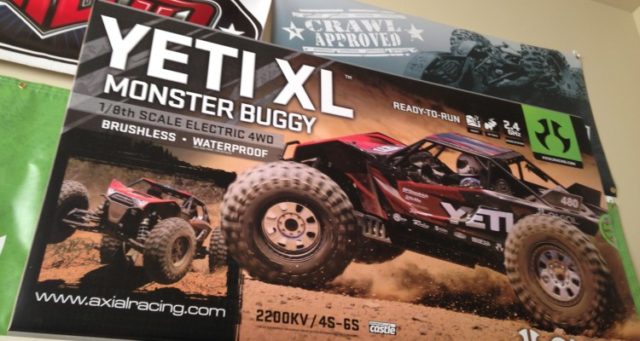 Originally posted by Rich Derry
The Axial Yeti XL Monster Buggy is quite a site to behold. This thing really is a Monster Buggy. When sat next to my Team Associated B4.2 it makes it look like a Hot Wheels car. Everything is large on this, from the drivers heads to the shocks. There aren't many RC's out there that has a presence like this does.
The Yeti XL was released shortly after it's little brother the 1/10th Yeti. The "smaller" Yeti is quite a large 1/10th RC and was probably the most anticipated RC of 2014. Axial then dropped a "bombshell" when they released this behemoth and showed the rest of the RC world that they are still the "King of Scale".
The scale drivers cockpit (complete with scale detailing decals) is surrounded by tubular cage work that mimics that of a full size King of the Hammers Rock Racer. The front of the cage is held on with two body pins, once those are pulled, the cage rotates up so that the electronics and battery holders are exposed. In the rear of the cage it is held on with two hex screws that are located directly beneath a very scale looking faux Griffin Radiator and faux battery (nice scale touch). Also located on the cage is a faux fuel filler cap and fire extinguisher.
Once you remove the cage underneath the Yeti is no slouch, it sports a 1/8th scale power plant. It has a re-branded Castle Creations ESC complete with fan that can handle up to 6s LiPo (two 3s LiPo's ran in parallel), and a Vanguard (re-branded Castle Creations) 2200 KV large brushless motor. The servo that steers the massive meaty BF Goodrich Krawler T/A tires is a Tactic TSX45 water resistant servo, even though I personally like this servo, I question the reasoning not installing a higher torque servo (it might surprise me though because it did on the 1/10 Yeti).
The XL is a rare bird when it comes to the suspension setup. The front is an IFS (Independent Front Suspension) setup, something you'd find on most high-speed RC's and full scale vehicles. The rear is a massive solid axle complete with a true to scale  4-link suspension with very solid trailing arms. The shocks themselves are massive with very scale looking non-functional external reservoirs luckily they are made out of aluminum so that they can take the abuse that this thing will undertake.
All in all I am very impressed with the way this thing is out of the box and can't wait to get this out and see what it can do.
Be looking for a running video very soon to see what you can expect when you pull the trigger!