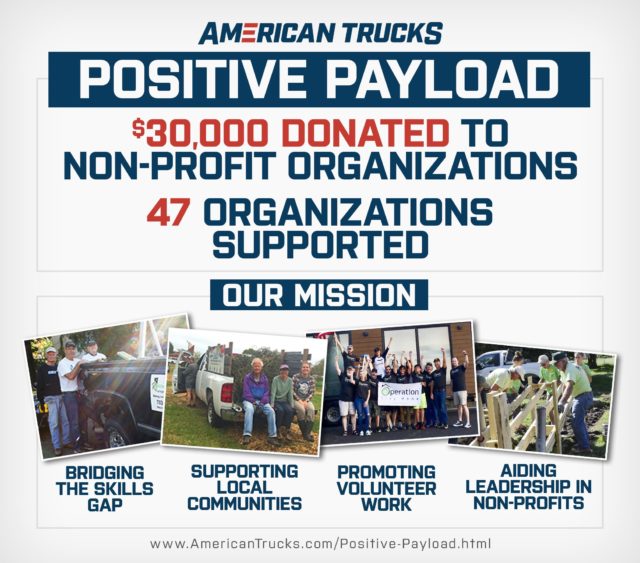 Help A Worthy Charity Get A $2,000 Donation
The AmericanTrucks.com (AT) Positive Payload program is announcing another deserving charity as the recipient of our $2,000 annual grant!
The 2020 winner of the AmericanTrucks Positive Payload grant is:

– 1Mission

Congratulations to this great organization!



In case you hadn't heard, back in 2017, AT decided to give back to a crucial part of the community it serves. The auto parts retailer for Ford, RAM and GM pickups wants to support builders, contractors, field workers, and organizations relying upon the services of these hard working folks TO GET THE JOB DONE!
Since it's inception, AT has donated over $30,000 to non-profit organizations!
AmericanTrucks recognizes that pickups are the backbone of the American workforce, from job sites to disaster relief and everything in between, which is why we're proud to launch the Positive Payload Program.
The Positive Payload Program is designed to benefit non-profit charitable organizations who use and rely on pickup trucks and pickup truck accessories  to better their community. Anyone who works with or volunteers for a charity that uses Ford F-150s, Chevrolet Silverados, GMC Sierras, or Dodge Rams is welcome to apply for a $200 donation to the charity they are involved with. Finally, each year one of the previous winners of the $200 donation will be eligible for an annual award of an additional $2,000!
Eligibilty
To be eligible for a donation, you must meet the following criteria:
Be a Non-profit charity organization
The charity must use Ford F-150s, Chevrolet Silverados, GMC Sierras, or Dodge Rams in some capacity to assist with normal operations
Organizations can receive only one $200 grant from the program
Awards of the $200 grant automatically enroll organizations into the annual drawing for a single, $2,000 award (granted once per organization, lifetime)