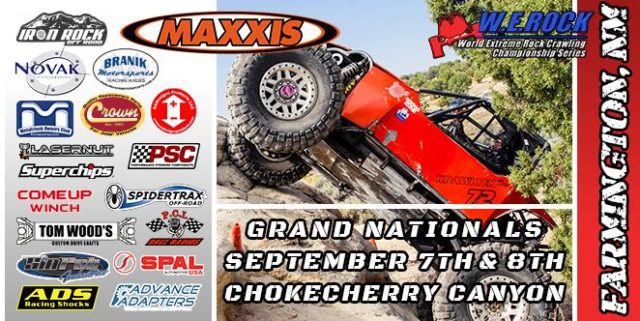 W.E. Rock Grand Nationals, September 7th and 8th – Chokecherry Canyon, Farmington, NM
Message from Big Rich Klein, CEO/President of WE Rock Events 

Chokecherry Canyon's Brown Springs has been the home to many of rock crawling's wildest championship events. Maybe none as wild as last year's shootout course. Where Jesse Haines went for broke and rolled twice on the same obstacle trying to force Cody Waggoner into having to make the same bonus for the win.
---
This year's championship will feature many of the same drivers, but with some new guys pushing the old guys hard. Coming in off a win in Goldendale WA watch for Jacob Reeves to push the other top drivers vying for that much sought after National Title in Unlimited.
Craig Allen is the man to beat in the Pro Mod class, but don't expect Ryan Maxfield to just roll over and let him have the championship 2 years in a row.
Let's not forget 6 year old Landen Brown competing in the Mini-Buggy class, this is truly an awesome sight.
A great field of about 40 competitors will be looking to be named Grand National Champion in at least 4 classes.
Festivities begin on Friday night (5 pm) in old downtown Farmington with a 4×4 car and vendor show

Use code WEROCK19 to save 20% on most tickets 
(closes at midnight day before event)
The event that we have been working towards all year! The event every diver wants to win. The event every spectator wants to be at. The WE Rock Grand Nationals! All the best drivers from around the world show up to see who is the best. The action starts on Saturday, September 7th at 10 am and will run through approximately 4:00 p.m. Then followed by day two on Sunday, again starting at 10 a.m. 

Make sure you join us at:
Brown Springs at Chokecherry Canyon
Pinon Hills Blvd and Glade Road
Farmington, NM 87401