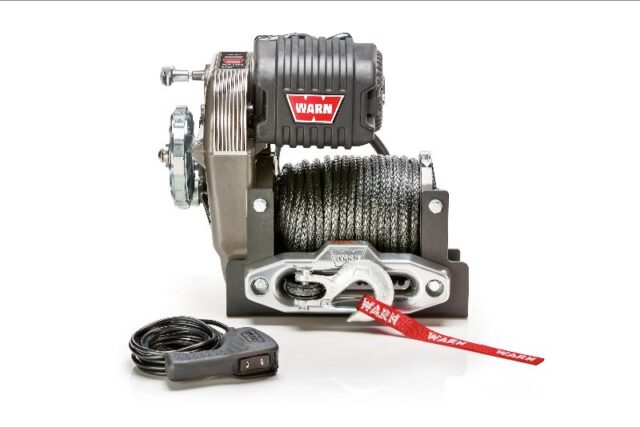 Warn Industries Releases New M8274 & M8274-S 10,000 lb. Capacity Winches More power, durability, and synthetic rope option.
Clackamas, OR (6/8/20) – Warn Industries' most iconic winch—the M8274—is evolving. It maintains all the things buyers love about the product: speed, durability, long rope lengths, and its famous upright configuration. But the winches now have increased performance and improved features ensuring its legendary status for years to come.
Now Available with Spydura® Synthetic or Steel Rope
The M8274 will now get the option of Spydura synthetic or steel rope. Specifically, the M8274-S has 150′ of lightweight, easy-to-handle 3/8″ Spydura synthetic rope and a polished hawse fairlead. The M8274 has 125′ of durable 3/8″ steel rope and a roller fairlead.
Increased Capacity, Improved Electronics
Since 1974, this winch has had an 8,000 lb. pulling capacity. With this update, the capacity goes up to 10,000 lbs., courtesy of a new high-output 6 HP motor. This increased capacity is better suited to today's larger, heavier trucks and SUVs. Additionally, Warn switched from solenoid control to an ultra-reliable, efficient IP68 waterproof Albright contactor. The winch will continue to be the fastest offering in the entire WARN lineup (79.1 ft/min at 0 load), and the fastest full-load capacity the company has ever produced (7.7 ft/min at 10,000 lbs).
Improved Durability
While the M8274 already had a tough-as-nails reputation, several improvements were made. Warn revised the high-strength polymer control pack for a modern twist on classic styling. The new stainless-steel clutch handle is more durable, ergonomic, and is easier-to-use than ever before. There are two Oilite® bushings installed on the pinion gear assembly for improved durability in extreme recovery conditions. Finally, a bolt-and-washer assembly replaces the previous retaining ring on the brake shaft.
One thing that will not change is the fact this winch is made in the USA at our factory in Clackamas, Oregon.
These new and improved features will help ensure the M8274 and M8274-S will remain living legends helping people worldwide "GO PREPARED" for whatever adventures lie ahead.