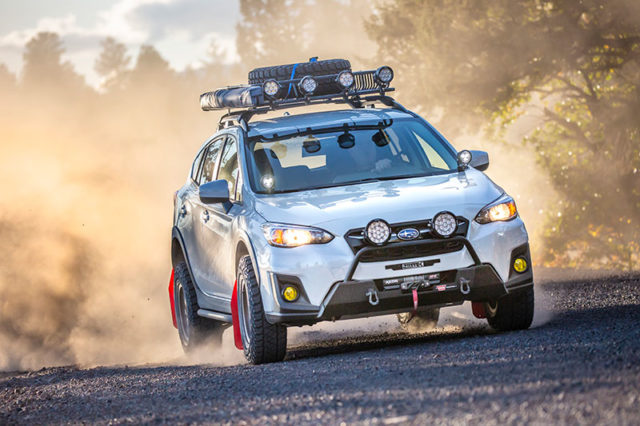 Clackamas, OR (11/11/2019) – Warn Industries released a host of new products at the 2019 SEMA Show in Las Vegas this week. This includes the brand-new Semi Hidden Kit for Subaru Crosstrek, and Trans4mer Gen III mounting system for Ford Super Duty and Ranger, and Ram trucks.
New Trans4mer Gen III Mounting System
The third iteration of Warn Industries' modular, versatile Trans4mer Mounting System is now available. Initial applications include the 2017+ Ford Super Dudy, 2019+ Ford Ranger, and 2019+ RAM 2500/3500 with other offerings on the way.
Trans4mer has always been a great choice for those looking for a customizable solution for their truck, and the new Gen III system takes these features to a new level. It's more modular, has more options, extra welds, and fewer bolts. It is also easier than ever to order with no moree than two part numberst to select.
Winch Mounting System
For those looking to attach a winch to their truck, Warn offers a simple, straight forward mounting system that can accommodate mid-frame and large-frame winches in capacities up to 16,500 lbs. (7484 kg). The kit includes mounting brackets and the winch carrier, J-hooks for recovery, and recessed ports to mount lights. It wears a state of the art black powder-coated finish that will stand up to a 408-hour salt spray test for excellent corrosion resistance.
Grille Guard Kits
To the winch mount, buyers may add one of two grille-guard kits. The first is a bolt-on center grille guard for additional front-end protection. It includes two 2″ (51cm) cross bars, one with light-mounting tabs. Plus, the uprights have replaceable rubber trim for protection and style.
The second option is a bolt-on full grille guard. This includes the aforementioned center grille guard and its features, but adds headlamp guards for complete frontal protection from a host of hazards both on the trail or worksite.
Both Grille Guard Kits require the winch mounting kit as a base.
New Semi Hidden Kit Mounting System for Subaru Crosstrek
Warn Industries has expanded it's lineup of low-profile semi hidden mounts to include the 2018+ Subaru Crosstrek. This mounting system provides the popular all-wheel drive crossover with added levels of protection, capability, and style.
This WARN Semi Hidden Kit gives the Subaru Crosstrek the ability to mount a winch for self-recovery tudy and is designed to work with the vehicle's unibody construction. The highly engineered mounting system has a stout 3/16′ steel structure and weighs only 60 lbs. The system accommodates a WARN VRX 45 or AXON 45, or AXON 55 winch, and has been pull tested for winches up to 6,000 lbs. As an alternative to installing a winch, a 20″ LED light bar can be installed where the winch would go. Additionally, this kit wears a state of the art powder coated finish with a five-step pretreatment process using zirconium nanotechnology, and will stand up to a 408-hour salt spray test for exeptional corrosion resistance and UV protection.
The Semi Hidden Kit for Crosstrek is easy to install with minimal cutting to the lower plastic fascia. Ther is no metal cutting, grinding or welding needed. It is also compatable with airbags, driver aided systems, and factory skid plates, and has provisions to mount a front license plate.
For more information check out the WARN website.